Dr. Ketaki Vaidhyanathan Shares Tips on Coping With Stress and Anxiety During COVID-19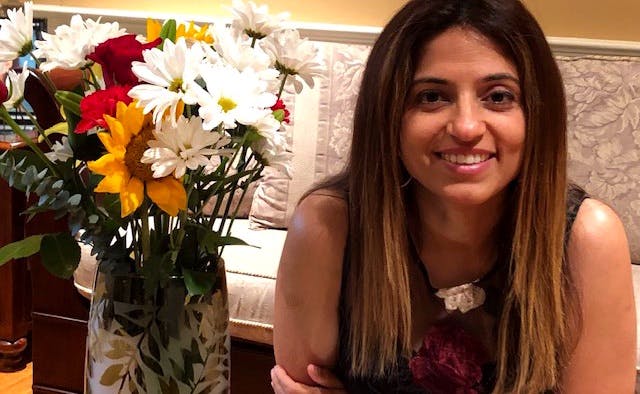 Had she stayed in her home city of Bombay (now Mumbai), Dr. Ketaki Vaidhyathan may not have even become a psychiatrist. The New Jersey-based doctor did decide to study biology and go to medical school at the young age of 17, but due to the stigma around mental health in India, she might have chosen a different specialty. 
"There, having a mental illness is seen as shameful or a defect in your character, or people think you can just shake it off," she says. "People are all about brushing it under the rug. You could see that there was a need even within my own classmates, but no one ever vocalized it, or pursued psychiatry because there was no future in it." 
It wasn't until she and her husband relocated to Denver, Colorado that Dr. Vaidnyanathan decided to pursue her passion.
"I have a good psychological IQ about myself, and it was something I just took a shine to," she says. Plus, she saw a need: "Psychiatry is very much needed, and the supply of doctors is not as high as the demand. The middle of the country is underserved. You might have family doctors who are the first line of care."
After breaking the news to her family back in India about her chosen specialty — who she said were admittedly a little surprised — Dr. Vaidhyanathan dove into the career that she now loves, first as a resident at Rutgers University and now as an outpatient psychiatrist at St. Joseph's Hospital in Paterson, NJ. Before the COVID-19 outbreak, she regularly saw 55 to 60 adult patients a week, treating them for everything from psychotic disorders to depression and anxiety. Despite her work's challenges, she loves it, and believes that the stigma around mental health is changing.  
Dr. Vaidhyanathan says, "While most of medicine is investigative work, I enjoy psychiatry because there are no biomarkers or physical clues to figure out the differential. It is making the connection between the conscious and the unconscious, figuring out how people's experiences have shaped their behaviors, their interpretation of the world and themselves, and helping them work through this that is really intriguing and exciting."
She adds, "We need to advocate the cause of psychiatric patients, as they do have a significant number of problems in addition to their main psychiatric diagnosis. It is also very rewarding as in any line of work/medicine to see the relief they experience when their symptoms (which have no way of being measured biologically) are mitigated or resolved by the treatment." 
Since the coronavirus pandemic has broken out, Dr. Vaidhyanathan has seen increases in paranoia, anxiety, and depression among not only her patients but also with the healthcare workers on the front lines. And she shared some advice for everyone as we all try to get through this together:
Keep up with appointments. If you're already diagnosed and seeing a physician or psychiatrist, Dr. Vaidhyanathan recommends keeping up with regularly scheduled appointments (even if they're now virtual) to make sure you're getting the support you need.
Take care of yourself in the way that feels best to you. "These are unprecedented times," Dr. Vaidhyanathan says. "It's okay to struggle or have a bad day. You don't have to put up a stoic front. It's okay to mourn if you've lost something, even if it's small. It's still a loss." She says that reaching out to friends and family can be helpful, as can getting a breath of fresh air with a walk outside. Do something to nourish your soul and re-energize yourself when you're feeling down. "It's important to de-stress, which could be through spirituality or meditation — whatever helps you feel relaxed," she says.
Follow a routine. Creating structure can help with the loss of control everyone is feeling right now. "Wake up at the same time every day and get ready for the day — but give yourself a little leeway," Dr. Vaidhyanathan says. 
Small gestures can have big results. "I feel like people feel better when they're able to contribute in some way, even if it's small," she says. "A lot of people are making masks or donating where they can." It doesn't have to be a lot, but it may give you a boost. 
And Dr. Vaidhyanathan reiterates, "If you do have a bad day, it's okay. You had a bad day and these are difficult times."
Join Dr. Vaidhyanathan to learn more about mental health during the COVID-19 pandemic at SEEMA's Virtual Happy Hour on Friday, May 15 at 6pm ET. RSVP to info@seema.com.