Geetha Manjunath Uses Artificial Intelligence to catch cancer early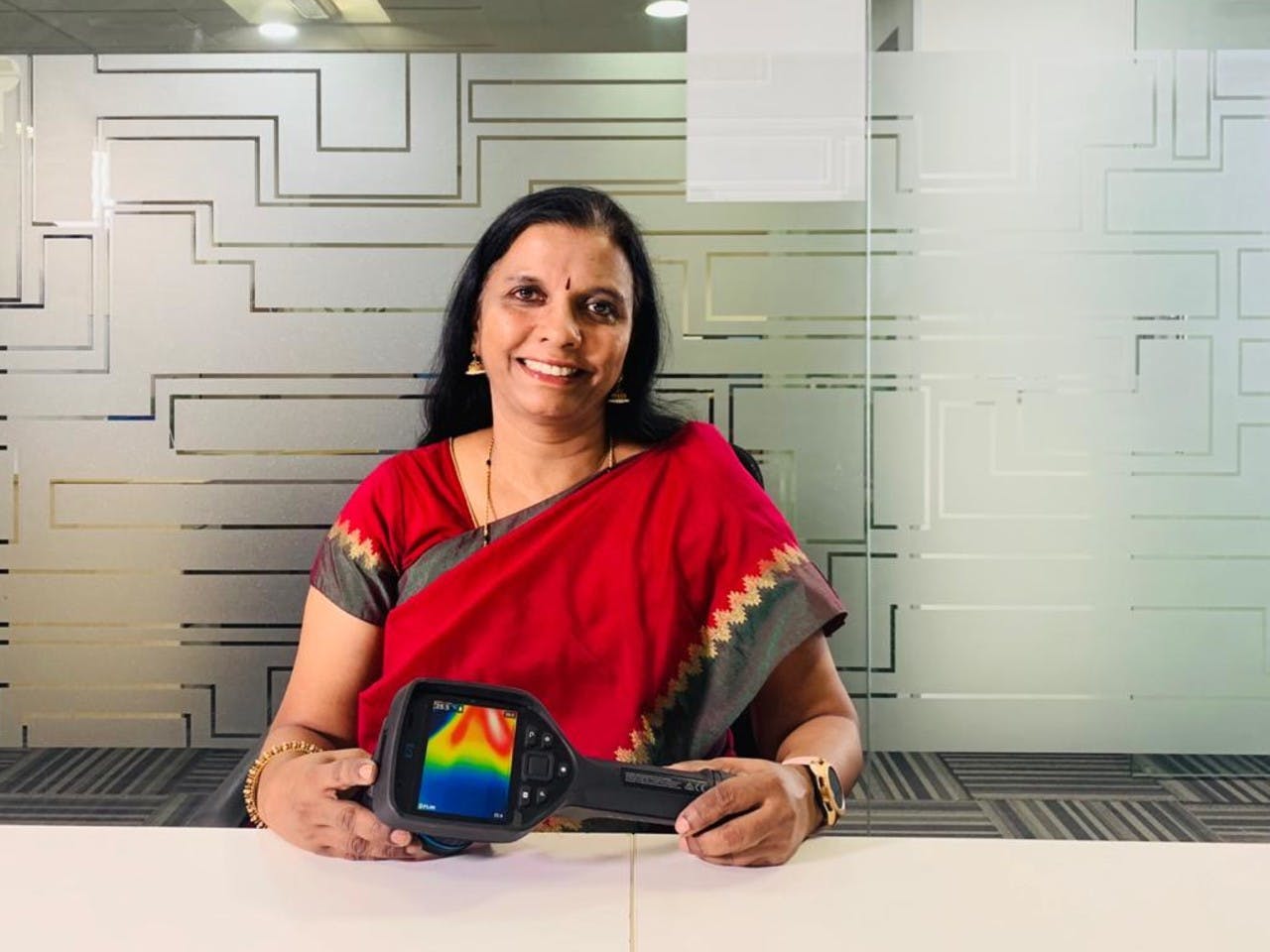 Geetha Manjunath, Founder and CEO of Niramai Health Analytix, is a true-blue techie. In her very first job, she was part of the team that built India's first supercomputer. Since then, she has led many innovative projects in healthcare and transportation. Her company, Niramai (which stands for Non-Invasive Risk Assessment with Machine Intelligence), has pioneered AI-driven technology that aims to make breast cancer screening more reliable, accessible and comfortable.
What drew you to science, and to computer science in particular?
Even as a child, I was always inquisitive about how things worked around me. I was inspired by my father who would always try to fix things around the house—he wouldn't call a plumber, electrician or carpenter. I learned that there is a lot of joy in fixing things yourself.
My very first interaction with a computer was at an exhibition, and I was immediately fascinat-ed. When the time came for college, I chose to pursue computer science. That was the begin-ning of my journey with computers, after just having seen one once; it's been 35 years now.
You were part of the team that built India's first supercomputer. Tell us about that experi-ence.
The supercomputer was my first job stint. The Centre for Development of Advanced Compu-ting (C-DAC) was the only computer research institute around when I graduated. The reason I wanted to join them was that they were building the country's first indigenous supercomputer. I learnt a lot and went on to head the compiler division in two years.
At what point did the entrepreneurship bug bite you?
Throughout my career, I have not been interested in just doing research for research sake, to simply publish papers. I always wanted to take the research and make it work in the real world, in a way that made business sense. I was always what is now labelled an "intrapreneur."
Around 2013, two close family members, both young women in their late thirties and early for-ties, both mothers of young children, were diagnosed with breast cancer. This was a very dis-turbing time personally. That's when I started reading about breast cancer. Coincidentally, at work, we were dabbling in a lot of imaging technology then, and I learned about thermal imag-ing technology that could detect cancers earlier. I wanted to dig deeper and make a difference. That's when Niramai was born.
What does Niramai bring to breast cancer detection?
Mammography is the default standard for breast cancer detection today. A mammogram is simply an x-ray of the breast. A white spot in a mammogram indicates lumps or other hard ar-eas. But below the age of 45, a women's breast is dense, so the whole breast appears white. Unfortunately, many women get breast cancer when they are younger and there is no reliable test to detect it. Mammograms also expose patients to radiation and are extremely uncomfort-able.
On the other hand, our technology uses thermography. Cancerous areas have cells that divide at a higher-than-normal rate and the blood flow to those areas is higher. Now this shows up in a thermal image. But, there may be hotspots that are not cancerous. That's where we use Arti-ficial Intelligence and Machine Learning to analyze each of these and say whether the hotspot is likely to be malignant or not. This is very critical.
Does it work? Well, we have compared our test results with those of biopsies on 15,000 wom-en so far and found that we are able to detect cancers without too many false positives. In our largest and most recent single clinical trial we were able to detect every single cancer even be-fore the appearance of any symptoms.
Most importantly, our solution is also "no touch, no see". We create a booth, and a curtain is drawn between the patient and the technician. I call it a changing room experience. It's been a huge factor in getting acceptance for the test from women.
What is your vision for Niramai and this technology?
Nobody needs to die of breast cancer. All we need to enable is early detection and that is what we're attempting to do. I keep saying that the Niramai test needs to go to every woman. In that effort, we have made the device portable—it can be carried in your backpack—and affordable. This technology also addresses many socio-cultural factors that keep women from getting screened in the first place.
Plus, our technology is not limited to just breast cancer. We have very early signs of that, and we just won a Bill & Melinda Gates Foundation grant to detect a parasitic disease called river blindness. I feel we're just scratching the surface. This could become a completely new way of detecting health issues.