Indian-American Women Going Big in Politics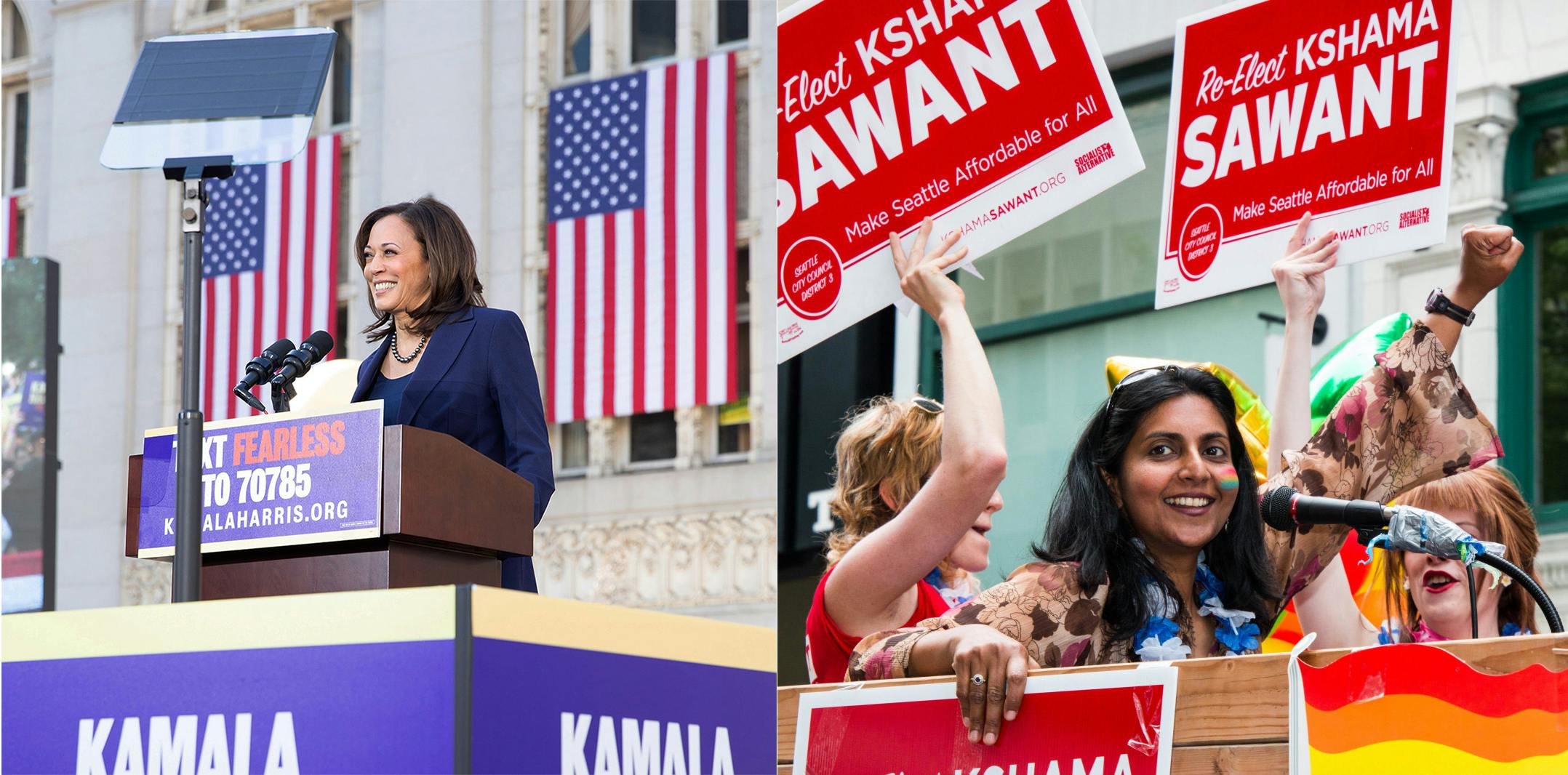 As American politics get increasingly divisive, the reaction is motivating a whole new generation of political newbies to get involved. Indian American women have embraced this opportunity with increasing success. From seasoned veterans like Nikki Haley and Senator Kamala Harris to first-timers like Hiral Tipirneni, Anita Malik, and Kshama Sawant, there has never been a better time for Indian American women to pursue political ambitions. As Raj Goyle, a member of the Kansas House of Representatives and cofounder of The Indian American Impact Fund aptly puts it, "In such a critically important election, one that will shape policy and politics for generations to come, Indian Americans can't afford to stay on the sidelines."
Indian Americans, which constitute one percent of the country's population, are among the minority groups experiencing the fastest growth in the U.S. Historically, the community has been woefully underrepresented in government, but the past year has seen a sea change in this regard. One hundred Indian Americans competed in the 2018 midterm elections at the local, state, and national level. The younger generation is no longer content with staying apolitical. And unlike in the past, there is increased family support for youngsters in the community seeking to be politicians, and there is no lack of role models for them to emulate.
Pramila Jayapal, U.S. Representative from Washington's 7th Congressional District, reiterates Goyle's view. "It has meant that we really need people who understand the system to be fighting back. It has meant that number one, we really need to understand the system to be fighting back—against all of these attacks, against family separation, ripping mothers from their children. Immigration has never actually been about policy. It has been about who we are as a country and what we are willing to stand up for," she says. Her sister Susheela Jayapal was also one of those victorious in the midterms, having been elected as a member of Board of Commissioners of Multnomah County in Oregon, making her the first South Asian to do so in the state.
The political scene in America as a whole has seen significant development over the past year, and at the forefront of this has been the increased presence of women in the House of Representatives, including the historic victory of two Native American women. Women now make up more than 100 of the 435 members in the House of Representatives. Given the trend, it should not come as a surprise that Indian American women have read the winds of change right and joined the fray with gusto. 
As immigrant lawyer and Kentucky state representative Nima Kulkarni says, "The election of Donald Trump; the political tenor nationally and locally on immigration; and our governor in Kentucky attacking things beyond immigration, things that I value, like public schools and social security, moved me to run." The desire to bring about change by being in office  seems to be the driving force behind these women. Kulkarni is the first Indian American woman elected to the post, and in the Democratic primary faced a tough draw against the veteran incumbent, Dennis Horlander.
With Senator Harris having taken the first step toward the White House by launching her 2020 campaign for the presidency, it might not be too far-fetched to imagine that an Indian American woman might soon take on the mantle of being the leader of the free world. These historic political events indicate that Indian Americans as a whole, and women in particular, have a lot to look forward to.