Making More Girls Who Code a Reality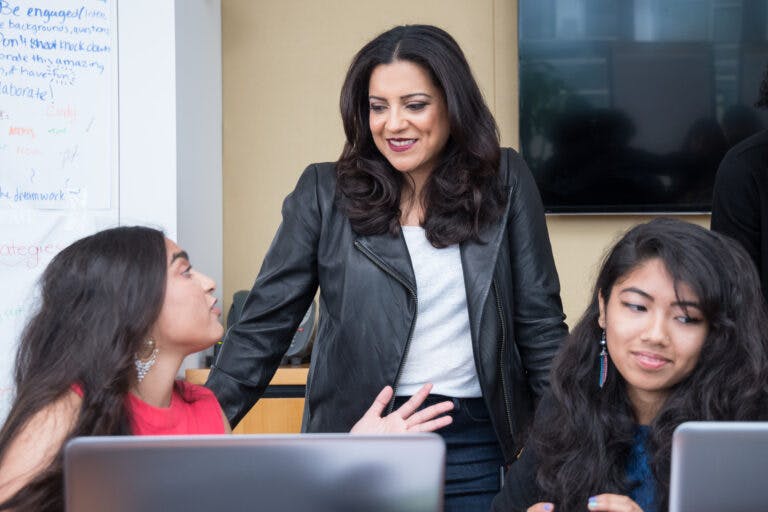 On June 25, 2018, the nonprofit organization Girls Who Code, headed by CEO Reshma Saujani, announced its first set of policy recommendations. The organization's goal since its founding has been to close the gender gap in computer science by training women and girls in programming and coding. The group hopes to build the "largest pipeline of future female engineers in the United States," as its statement of values puts it.
Saujani was motivated to found the group in 2012 after an unsuccessful run for the United States Congress. At the same time she was attracting a lot of media attention as the first Indian American woman to run, Saujani was struck by the lack of girls and young women in the computer science classes that she visited along the campaign trail. Initially, Girls Who Code focused on educational programming and summer courses to introduce young girls to coding.
By 2016, Girls Who Code had expanded to all 50 American states and was directly serving 60,000 women and girls. As it entered a period of expansion, the organization was poised to articulate a bold and progressive policy agenda, which they announced in June 2018.
The Girls Who Code agenda is focused on attracting girls in grades K-12 to computer science. In the early years of computer science, roughly 37% of the workforce was female. However, in the last 20 years, that number has dropped to 24%, and it's trending downward. Clearly, the availability and variety of computer science opportunities aren't solving this problem. Measures need to be taken to ensure that women are able to compete in this field, starting from a young age.
On April 17, 2019, Washington became the first state to pass legislation based on these recommendations. The bill passed through both the House of Representatives and the State Senate with bipartisan support before being signed by Governor Jay Inslee on April 17. Initially, the bill will track the availability of computer science courses, as well as the demographic data of enrolled students. Based on that data, lawmakers will be able to direct attention and funds to areas that need improvement.  
Washington's bill is the first piece of legislation written based on Girls Who Code policy recommendations, but it isn't the first time that politicians have courted this organization. Mere months after their policy agenda was announced, Saujani was invited to host an event alongside Pennsylvania First Lady Frances Wolf that served to highlight Pennsylvania's adoption of its Women in Tech lesson plans, as well as the state's commitment to publishing gender participation data for all computer science classrooms.
Among the political figures supporting Girls Who Code's vital work is Rep. Alexandria Ocasio-Cortez, who recently hosted a town hall with 400 Girls Who Code alumni and students that was focused on the message of pursuing bravery over perfection.
With a policy agenda this ambitious, there are lots of reasons to expect that Girls Who Code will hit its target of closing the gender gap in entry-level computer science jobs by 2027