SEEMA SUMMIT Speaker: Ishveen Anand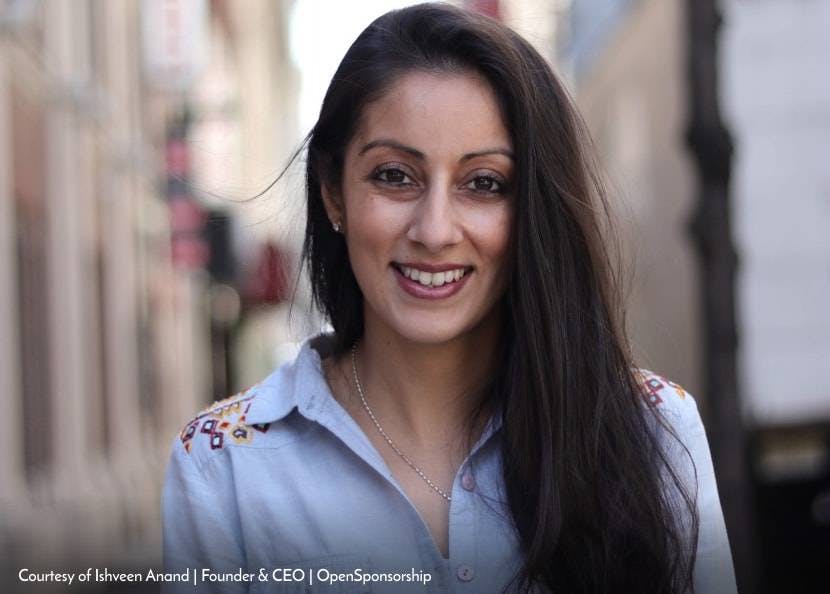 We are thrilled that Ishveen Anand will be one of our speakers at the SEEMA SUMMIT, on Sunday March 8 in New York City. The event gives center stage to influential South Asian women for remarks and panel discussions of their professional and personal experiences. We also will announce exclusive findings from SEEMA about how cultural expectations impact the lives of South Asian women. 
Ishveen Anand is the Founder + CEO of award-winning marketplace OpenSponsorship, a VC backed startup matching brands to athlete for marketing campaigns. Ishveen, a former sports agent, and expert on sponsorship, started the company with the belief that every brand + agency should be leveraging sports within their marketing mix, and that the barriers to entry such as lack of relationships, price transparency, sports knowledge or in-house resource could all be eradicated thanks to technology and data. Ishveen has grown OpenSponsorship to the largest marketplace globally with over 6000 athletes, 4500 deals and clients such as Anheuser Busch, Sperry's and ESPN.
She was named on Inc's Top 100 Female Founders list in 2019 and on the Forbes30under30 sports list, and graduated from Oxford University where she was a student athlete across a number of sports.  
Join us to hear and network with additional speakers such as Aneri Shah (Founder at Sightworthy), Deepti Sharma (Founder at FoodtoEat), Nayantara Dutta (Founder at Defining Desi), Roopa Unnikrishnan (Head of Strategy at Harman), Shweta Shetty (Vice President, Corporate Strategy at SAP), Smita Pillai (Chief Diversity and Inclusion Officer at Dow Jones), Surabhi Lal (Chief Impact Officer at Luminary) and more. 

The SEEMA Summit begins with Brunch and ends with networking as well as mingling among pop-up shops with cocktails.

9:30 AM Registration and Brunch
10:00 AM Welcome with Meditation
10:50 AM Keynote - Chef Palak Patel
11:15 AM Pane: Balancing it all in the corporate world
11:45 AM Panel: Beyond STEM - a discussion on Coronavirus
12:15 PM Panel: Leaders changing the world through entrepreneurship
1:00 PM Discussion breakouts
1:40 PM Pop-up shops, cocktails
  
Hurry.  Registration closes soon.  SIGN UP NOW