Founder Mira Kulkarni takes Ayurveda beauty mainstream with Forest Essentials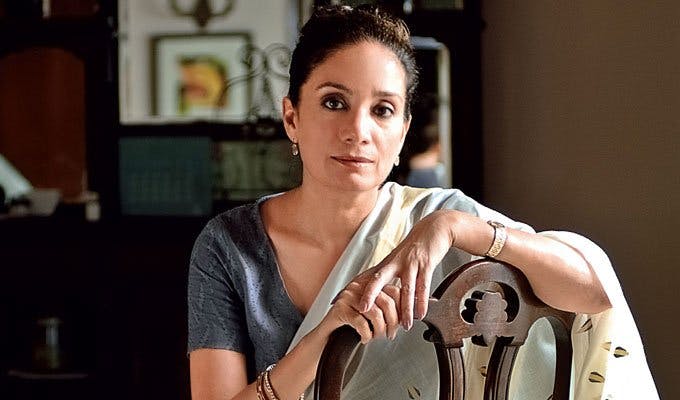 You could say Mira Kulkarni is an old soul. She embraces and learns from the past to carefully carry Ayurvedic traditions into the future, but not as a relic. Rather, the founder of the Forest Essentials Ayurvedic beauty brand innovates customs and rituals to realize products for today's market.
Kulkarni started her enterprise as a hobby in 2000. Her inspiration was two-fold:  a statement against what she saw from manufacturers creating Ayurvedic formulations, and a chance to put her own stamp on a medicinal tradition she deeply respected.
Kulkarni encountered the Ayurvedic way at a young age, living in the Tehri Garhwal region of Uttaranchal, an Indian center for Ayurveda. She found a lack of user-friendly Ayurvedic products based on traditional recipes. Instead, what was being sold at the time were poorly-made ones using the cheapest ingredients, resulting in strong, unpleasant scents.
So, with a small selection of cold-pressed, hand-made soaps and scented candles, she set out, not to change the world, but to do things differently. With buyers appreciating the subtle, fresh and invigorating elements of her simple offerings, she then worked with vaids and biochemists to create creams, lotions and other products embracing lighter textures and high purity. To this day, she still insists everything be grown organically and that such processes as cold-pressing oils and hand-pounding herbs remain.
Success finds her
Kulkarni set up her first stand-alone store in Delhi's Khan Market in 2000. The first time the store ran out of product, it had to shut down for two days to replenish the stock.
"It wasn't a business, it never started as a business. It never even evolved as a business until much later," she told Fortune India.
The success of Forest Essentials has since grown, ridding if not driving a $4 billion Ayurvedic cosmetics market in India alone. The company realized its first large commercial order in 2002 from Hyatt Regency India, and by 2007 Estee Lauder had purchased a minority stake.
Today, the beauty company has more than 70 stores throughout India and ships to over 120 countries. Kulkarni is  a regular on Fortune India's "Most Powerful Women in Business" list, and the company is poised for further global expansion.
Keeping with tradition
An avid gardener, Kulkarni is obsessed with keeping the purity of her company products. It has a research team devoted to product consistency, responsible sourcing and maintaining the exact, sometimes tedious, traditional methods to preserve and enhance the standards the brand represents.
Sourcing the freshest and highest quality ingredients remains a major priority. With Forest Essentials, you'll find lemongrass from Ooty, sandalwood from Mysuru and roses from Kannauj, as just a few examples. With her son Samrath and daughter Divya involved, the enterprise is looking to collaborate with landowners across the India to develop herb gardens. This would allow for community partnership along with the opportunity to maintain control over ingredient quality.
Creativity is alive at Forest Essentials as well. The company recently launched single-flower pure perfumes. One formula uses hand-picked Nargis from Kashmir for a soft, but invigorating scent. Another has Desi Gulab sourced from the town of Kannauj for a deep garden fragrance; and a classic Jasmine, sourced from Madurai, offers a subtle representation of the traditional white flower that celebrates Indian life.
Kulkarni says the perfumes are "all reminiscent of Indian culture and refinement," and just as gardening is, making perfumes are another Ayurvedic exploration and journey in her life. "Making quality perfumes is a thorough study of fine craftsmanship," she said.